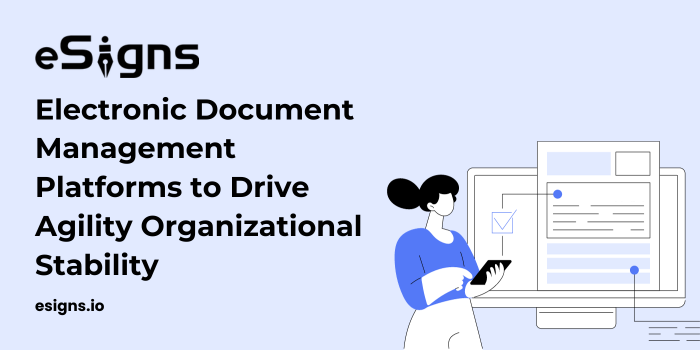 Agility is one of the key characteristic features of companies that attained ROI while maintaining stable growth amidst market turmoil and economic recession. The path towards success for these companies was however tried, tested, and evaluated but not saturated to follow a fixed framework.
According to Mckensy's study on the organizational health index, those companies that maintained agility and stability could stay ahead of the companies that maintained only either of them. What primary factors determine this agility? To be able to remain flexible to the changes taking place in the tech world is one of the key elements and electronic document management tools have stood at the forefront in facilitating an agile work atmosphere to drive the success of the organizations.
Adds of using Legacy Technologies
Technologies are updating at frequent intervals, and it is a continuous phenomenon. Evolving technologies often dominate legacy tools. Legacy technologies must update capabilities or may become obsolete. When digital transformation is fast expanding even to brick-and-mortar companies, organizations can no longer remain agile in the changed market landscape with legacy technologies. Legacy technologies lack qualities like speed, agility, and flexibility to meet the enterprise needs of borderless global economies.
Salient Features of Agile Technologies
Many companies remained stable despite the crisis by embracing innovations that evolved constantly and the key among them are digital document management platforms that came with the agility the companies looking for. Research studies of the Columbia Business School concluded that companies that were dynamic in their operations without being stuck in rigid bureaucratic structures have witnessed a 5% increase in their ROI than those companies that followed conventional technologies.
Mckensy listed the qualities of Agile Technologies as
Quick to mobilize.
Agile
Collaborative
Easy to get things done.
Responsive
Free flow of information
Quick decision-making
Empowered to act.
Scalability
Companies need to build a digital ecosystem to meet the above-mentioned qualities and agile technologies have emerged at the forefront with exceptional digital and automation features. Electronic document management platforms possess the required agile qualities to assist companies in building a
What features of eSigns qualify it as Agile Technology?
Let us examine how eSigns, the top electronic signature software, qualifies as agile technology and takes on the challenges of companies striving to fit in volatile market conditions.
Easy to Operate, User-Friendly Platform
eSigns, a digital signature software offers an easy to operate No-code platform that allows users from all walks of life to create custom documents without being a software engineer. The platform offers tools and techniques to drag fields of the user's choice to drop on the blank page the platform offers. Users can create space and rows to fill primary and additional details as per the requirements. A document creator can expect the recipient to import an image from their devices to fix them onto the document and sign electronically.
Digital Document Repository for Safe and Free Flow of Information
Users can create custom documents and save them as templates in the 'Central Digital Document Repository' that eSigns offers. Users can rest assured of the document safety, as no unauthorized user can access them.
Easy to Share Cloud Platform
A document creator need not rely on an email app to share documents as the cloud-based eSignature platform provides easy access to the documents instantly, without much hassle. The document sender and receivers get instant alerts when the document reaches its intended destination.
One Platform and Multiple Document-Sharing Options
Users find several document-sharing options to facilitate smooth business processing in companies. Companies need not invest time and money in paper-based manual documentation practices where employees enter in creating and formatting customized documents. eSigns allows companies to wrap multiple documents in a business process as a workflow to share with recipients. A document creator can generate a document link and share it with anonymous customers on any platform, allowing the respondents to access it quickly. Companies can use the 'Bulksend' option to share documents with multiple users in one go, without composing emails and searching for contact addresses, as eSigns build customer data for instant use.
Compatible and Mobile-First Platform
eSigns is compatible with a wide range of devices, including desktops, laptops, tabs, and mobile. This feature, combined with cloud data storage helps users to access data and documents on mobile even remotely to act quickly on strategic business decisions.
Affordable and Flexible
eSigns is available in a wide range of pricing categories, making it suitable for large, medium, and large companies. eSigns' ability to function as an on-premises and cloud-based platform turns it agile to the organizations' structural and functional demands.
Collaborative Platform
eSigns document collaboration features like 'Chat' and 'Alerts' make it agile further as it facilitates transparency and smooth document transactions while signing business agreements. Users can use the chat option to discuss changes and get the document modified instantly while signing a deal. Multiple stakeholders who are document signers of a contract can collaborate, discuss, and clarify issues or challenges before signing any agreement.
Analytical and Custom Dashboard Empowers Enterprises
Users can set a custom dashboard to view documents on the dynamic dashboard with analytical inputs. Business gets KPI to act immediately based on the contracts/document status as 'Signed', 'Expired', or 'Declined'. Key inputs on the document status let the business act quickly on compelling business challenges.
Scalable and Robust
eSigns meets all compliance norms globally, making it fit to operate from across the globe. It is legally binding and acceptable to conclude business deals online with eSigns' digital document management system.
The Power to Empower Enterprises.
The end-to-end online Document Management options empower enterprises to remain proactive and act to volatile market conditions instantly. Companies' employee engagement initiatives go unabated with eSigns' ability to provide restricted access to information to the departments within the companies based on organizational hierarchy.
Important Takeaways
eSigns qualifies as the most compatible and agile document management software for the digital age with its end-to-end document creation, signing, and sharing features. Companies can act quickly based on the intuitive and dynamic dashboard that offers key performance indicators for the business. The top electronic signature software builds and stores data for companies to design strategies, assign projects, and monitor their progress effortlessly. For more on agile esigns practices, please visit our website. Book a free demo to know more details.