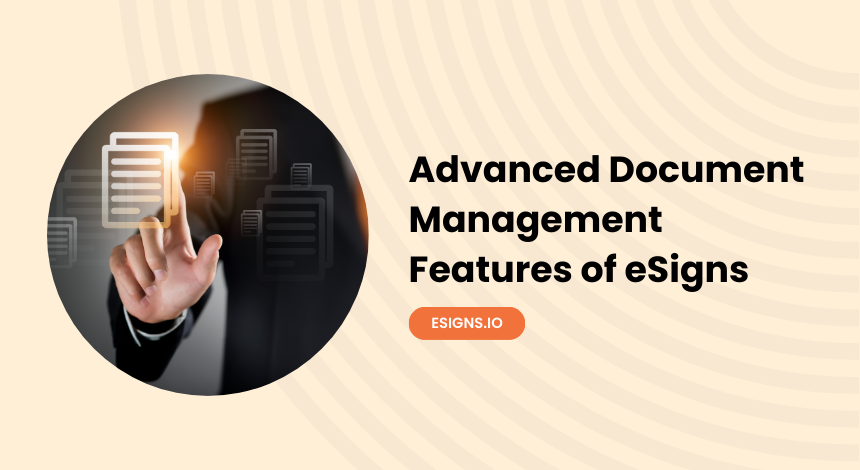 Of late, companies started concluding deals and signing agreements electronically for reasons like the best electronic signature platforms are quick, simple to operate, and user-friendly. When compared to paper-based, manual document creation, electronic document creation is cost-effective and increases employee productivity.
Although electronic signing as a feature is not a novice as practice for individuals and companies, eSigns is one of the top electronic signature platforms that is associated with several in-built features missing in several electronic signature platforms that have been in operation over the years.
What is an Electronic Signature?
An electronic signature is a digital version of a manually fixed signature. A manual signature also referred wet signature can be subjected to tampering, forgery, or fraudulent practices like signature hacking. An electronic signature uses an encrypted algorithm and a registered and legally approved signature as fixed or captured in your driver's license or social security documents is a valid electronic form of signature, which is legally acceptable to import from a device to conclude deals, or conclude agreements.
How Is It Different from Wet Signature?
Wet signature is manual and demands the physical presence of the signer. An electronic signature is a verified version of the digital signature of a person and online signature platforms like eSigns safeguard the signers' interests by making it tamper-proof by presenting a digital log history, which is transparent and within the purview of digital audit trial.
Two-Step Authentication
Unlike several web signature platforms, eSigns makes sure to share an electronically signed document only to an intended person who is entitled to receive it. Here, eSigns protect the document with a code. The user gets this code to his or her registered email ID used for registering the user login to the software. A user can access the document only with the help of the code he receives to his mailing address.
Going Beyond Electronic Signature
eSigns is one of the best electronic document management enterprising technologies where a user can create n-number of documents to create them as templates for reuse. eSigns has all qualifications to be featured as an enterprise technology for the below-mentioned reasons.
Easy to Use and Simplified
A user can create a customized document to meet a variety of needs and organizations can make the best use of the eSigns document management system for all internal and external communications. While the HR department can create customized offer letters and employee training materials using this platform, the IT head can expect his team to design tender documents. Sales or the marketing team can leverage the advanced features of eSigns for promoting events, and marketing campaigns effortlessly.
No-Code Drag and Drop Document Creation
Users can create customized documents of their choice by dragging no-code fields placed adjacent on the right side of a blank document. Users can create space for the text, images, columns, tables, and questions with multiple answer options to drop down. They can import massive data using form templates and more.
Banking, insurance, healthcare, and staffing companies can create documents with complex structures including columns and tables, company logos, and images to create customized agreement forms, insurance claim copies, bank loan application forms, or student onboarding applications easily by dragging a particular feature on to a blank document.
Customized Templates
Having created a customized document, companies need not recreate the document again. They can rather save it as a template to reuse it multiple times to bulk send the documents to prospective and future users.
Bulk Sending Option
While an HR manager can send Form-2, a mandatory document for the employees to file a tax, an educational institute can share study materials with several students varying in hundreds or thousands by simply selecting the contact types /addresses from a device.
Create Workflows to create a Seamless Digital Office Atmosphere
An insurance company can share or receive a series of documents including insurance application forms, customer onboarding forms, KYC documents, proof of evidence in case of accidents, health records in case of settling hospital bills, and more as a bundle using the best electronic signature software to create a paperless work atmosphere.
Cloud-Based and On-Premises Applications
Based on the user's preferences, customers can choose between an on-premises or a cloud-based application. Companies can leverage the digital advantage of the cloud-based eSignature platform to remain agile and flexible. The user experience it drives helps companies to create a unique user experience.
Collaborative and Interactive Platform
eSigns is an interactive and collaborative platform where users can collectively discuss and modify any document online instantly before they sign a document. Companies that sign agreements and contracts involving multiple stakeholders across global destinations can collaborate online to add or remove clauses in the agreement to conclude the deal. The eSigns allow users to use texts, messaging alerts, and notifications to draw the attention of all the parties involved in the agreement process.
The application maintains a detailed log making the tool very transparent. The tool registers the document history like the date and time with details related to who created the document and the number of times it was modified along with the signatory details.
Final Thoughts
Electronic Signature Software is a new-generation document management platform that helps industries and services alike to create, edit, share, and sign contracts, agreements, and deals online. Companies can save time and money.
The electronic signature document management platform simplifies and minimizes the workload for employees to focus on productive jobs. By switching over to eSigns, organizations can remain accurate and transparent.
It helps organizations to remain swift and agile to meet the ever-changing market needs to meet customer expectations. Advanced features of eSigns beyond basic document sharing help companies accomplish complex projects in a more simplified manner. A cloud-based document management platform is far more advanced than conventional and legacy applications like emails that expect users to stick to limitations like being unable to track whether a recipient received and read messages.