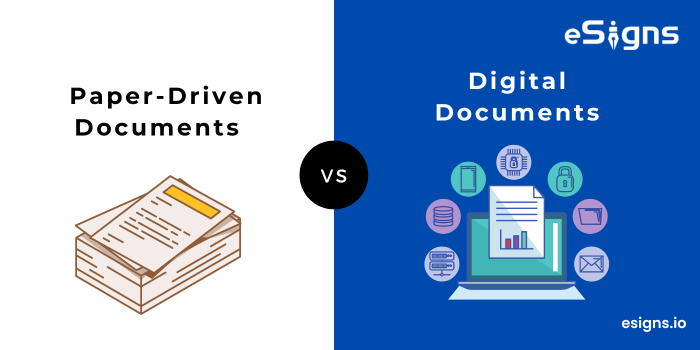 The advent of the internet and technological evolution has transformed the entire global scenario. Now, the world is a global village, and a person sitting in the United States can directly send any information or confidential digital documents easily, using email or any cloud-based platform. It is the beauty of technology which is breaking all the geographical barriers and traditional approaches. In the past few decades, the development of the software industry brought major changes in every sector. It could be finance, hospitality, logistics, or any other sector. Integrating the businesses with software improved efficiency, credibility, and quality. Above all, technology is bringing transparency in every sector. Moreover, saving time and costs included in manual procedures. Let us explore briefly electronic document management system and how it is helping various industries to improve efficiency by replacing paper-driven documentation with digital practices.
Paper-based Documentation – Pros and Cons
Right from newspapers to any official documents, everything is associated with physical formats. Something tangible is associated with our lives. It is hard to imagine a day in the past that is completely paperless. Most industries are relying on manual, paper-based documentation even today, which involves time, effort, and money.
The education sector, for example, is highly paper intensive. Everything should be documented physically, it could be certificates, assignments, or classroom work. For ages, industries including legal, hospitality, logistics, and more have relied on paper-based documentation of their activities to preserve valuable information intact for a long time. Digital documentation practices have changed the way industries interact and function today.
Every industry has a unique purpose when it comes to documentation and electronic signature software helps companies streamline their workflow to minimize the cost of paper, files, transportation, and other costs. There are several problems associated with traditional documentation. Storage-related issues and workforce to maintain them. One of the major disadvantages is wear and tear issues with the times. However, in some rare situations like lack of accessibility to the internet or technology, we cannot avoid paper-based documents completely. But going forward adapting the technology helps you streamline your online documentation.
Benefits of Digital Documents
Businesses across the world have completely adapted the digital documentation. Almost all communication happens through emails and no paperwork is involved. They are used only for a few confidential documents, wherever necessary. This is due to rapid development in digital documentation practices like sharing scanned pdf formats easily through emails. The greatest benefit is a time-saving factor that allows businesses to focus on growth at a rapid pace. Now, communication is happening at a more advanced stage, with the emergence of cloud-based platforms that offer more flexible platforms to design documents, request signatures, share with multiple people, different signing authorities, store capacity, and numerous other features. Let us explore more about the benefits and special features of the top electronic signature software and how it minimizes costs associated with the traditional approach.
Accessibility
Everything is handy if you adapt to the digital documentation platform. Access the documents anytime on a cloud-based platform. You don't have to carry immense files or a computer all the time. You can access your files even through your mobile phones. With a single electronic signature application, send documents to your clients and get them signed. Whenever required you can go through them online and share them with multiple users. You can access documents anytime throughout the day. It is not the case with paper-driven documents, where the copies, once signed go to the client, and you cannot bring them back physically. When you have a document in electronic form, you can interact online and seek opinions through the chat process. You can modify a document many times before you finally agreed to sign, or you may decline the request. Digital documents are more transparent and easier to access with cloud-based electronic signature software.
Create Documents
Design documents, exactly the way you like. You can edit the documents as per your requirements, these are legally binding. The traditional approach of paper documentation is expensive if a single error occurs post-printing. Here, the cloud-based platform brings you numerous options, to listen to the receiver through chat communication. There are several other features of the technology, that allows every individual to come to a common agreement, request signatures, and receive the save.
Cost Effective
The cloud-based electronic signature technology is affordable too. Numerous document management services offer a wide range of pricing plans that allow individuals or companies to choose a suitable subscription plan. It is affordable and several businesses across the world have adopted this technology. It saves a large amount of money; you don't have to spend on papers, printing, scanning, and delivering them physically, which is time-consuming and involves cost.
Security Features
Some of the unique features of the best electronic signature are high-end security. No one can access your data without your prior permission. Electronic signatures come with encrypted technology, there is no scope for forging or tampering with the documents. Communication happens very faster no longer waiting hours.
User-Friendly Nature
This web signature software is user-friendly. Any individual can easily create documents and send them to the receiver. One need not be technically sound to use this software. By following a few guidelines or tutorials, everyone can accomplish the task.
Audit Trails
After sending the documents to the intended receivers, through the electronic signature software. The sender can keep track of all the activities performed by the signees, who viewed the documents and signed on the document. The software records the entire document history.
Avoiding Fraudulent Practices
Most electronic signature software takes measures to ensure document safety. eSigns follows a two-step authentication process to ensure delivering the documents only to the intended user. There is no possibility of fraudulent practices. The electronic signatures are safe and encrypted. As these are completely online, the agreements are stored on the cloud-based platform or on your servers. You can access them any time you wish to.
Conclusion: Compared to paper-driven documentation, online documentation is secure. Complete automation will help all industries streamline business, and enhance transparency, efficiency, and security. Remain competitive in the industry by adapting electronic signature software that lets you grow faster.