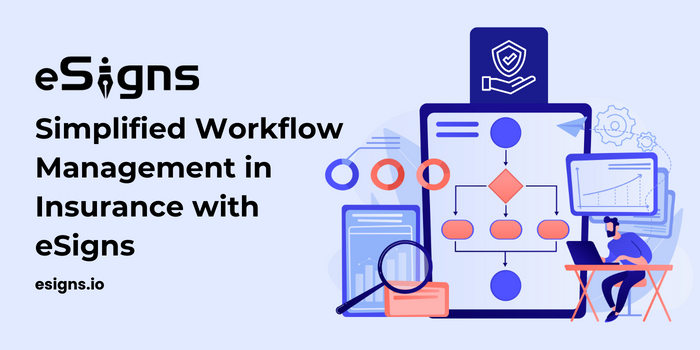 Digital transformation is at its forefront in the insurance sector globally and fintech investments grew from $41 billion in 2004 to $ 7.2 billion by 2019. Insutech investments were a mind-boggling $14.6 billion by 2021. Over 40% of insects have focused on the marketing and distribution segments of the insurance value chain, trying to address the customer pain points through a digitally enhanced customer experience that could pose a competitive threat to incumbents.
Although several digital innovations have emerged at the forefront, electronic signature software for insurance company with document and data management features can help insurance companies add more value for all stakeholders. Let us examine how insurance companies can unlock the latent demand for quality services to improve the customer experience.
Quick and Efficient
Electronic signature software is not an exclusive tool to fix an electronic signature alone and it goes beyond. Some of the important pain points customers experience while availing of insurance services include delays in accessing immediate services in case the affected needs immediate attention. This is particularly due to the document-intensive methods the industry follows in accepting and settling insurance claims in cases of health eventualities or accidents. In ideal conditions, an insurance agent must make sure that the insurance applicant is healthy and seeking an insurance policy for future mishaps only. While making final settlements, the agent must collect evidence to make sure that the insurance claim is genuine and valid. However, in emergencies when a patient or a customer looking for immediate relief, legacy settlement practices are fatal in saving a life.
An insurance agent should not take more than 5 seconds to provide an initial nod to go ahead with the insurance services when a health service provider approaches for confirmation. The insurance agent must have integrated information at his fingertips to say yes to the customer and the document management practices within the electronic signature for the insurance sector updates the minute customer details on the cloud-based platform so that the insurance agent can access it on his mobile phone even remotely.
Flexible and Customer-centric
eSignature tools are flexible to meet the organizational needs of all sizes and compatible with all devices, including laptops, desktops, tablets, and mobile phones. Insurance companies can design customized, customer-centric documents to meet their specific needs. Companies can divide customers into contact types, including industries, individuals, hospitals, and allied services that are associated with the insurance sector, such as the travel industry.
Efficient Insurance Sector Workflow Management Services
The insurance sector starts its functions by building strong customer data along with individual customer profiles. An esignature for insurance company is capable of creating and dispatching workflows, accomplishing multiple tasks at a time, including customer registration, onboarding, and evaluation of patients in case of claim settlement, and the final insurance claim settlement to the healthcare provider.
By creating easy-to-make templates and importing customer information into the form templates, an insurance agent can simply click on each template to create a digital workflow to send to the customer to fill in details at once.
The customer can access each template in quick succession as a bundle to fill in the information.
On-premises or Cloud-Native Platform
A customer can share the workflow with complete details through the cloud-native eSigns platform for the insurance services within no time. The insurance agent need not go to the customer to get a signature on the claim document. Customers can drag and drop a scanned electronic signature to complete the procedure. The insurance agent can rely on a series of lab reports, imaging reports, and the health provider certificate to settle claims.
Safe Secure and Tamper-Proof
Electronic signature tools enjoy legal backup from the state legislatures. Countries across North America, Europe, Asia-Pacific, and the Middle East have enacted enough laws to make sure that the regulatory bodies monitor them closely for compliance issues. Customers can be relieved of the document tampering and privacy breaching issues, as the electronic signature platform maintains transparency and is open for an independent digital auditing trial. Electronic signature tools for the insurance industry have taken all measures to honor customer privileges of data privacy and security.
Two-step authentication and End-to-End Encrypted
Efficient Document Management Practices
As stated already, the insurance industry is document-centric and documents minute details. eSigns, the next-generation electronic signature software for insurance offers a bright perspective for the industry to digitize and streamline its activities. The electronic signature for the insurance industry sector is a user-friendly application. The insurance company or an agent can have customer details as and when needed from a centralized, cloud-native repository. Since the application allocates each document an indexing number while archiving them in a repository, agents can search them quickly, using a search option to retrieve the document in split seconds to address customers' queries.
End-to-end-Automated Alerts
When a customer applies, seeking new registration, the insurance agent receives an automatic alert, seeking his attention. Whenever a customer sends comments, notifications, or acts on a document, such as, when declines to sign, the insurance employee receives notifications to intervene to remove the bottlenecks to facilitate a smooth and timely claim settlement.
Final Thoughts
Insurance companies can regain momentum by focusing on efficient customer service. The insurance industry needs to build a solid digital ecosystem to grasp the customer's quest for quality services in return for the premium they pay. Electronic signature tools go a long way in enhancing human resource skill sets in the insurance sector. Cloud-native electronic signature tools are efficient in building an agile and flexible user interface to accomplish critical insurance registration and evidence-gathering acts online, without passing the pain on to the already suffering accident victim or the one who is hospitalized and anxious to get medical assistance.
Post-COVID new normal societies and communities have realized the importance of getting medical and health insurance coverage. Despite inflation and economic recession, individuals are keen on extending insurance coverage. When the global insurance market is expanding gradually, is the industry ready to enhance its capabilities to meet the growing customer expectations?
To experience eSigns' enhanced user experience, please book a free demo right away.