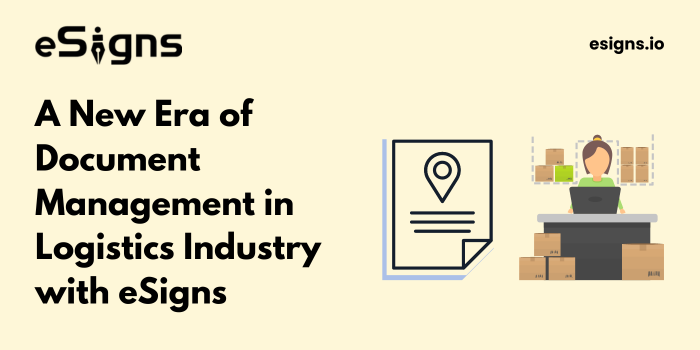 By the end of 2022, there was an exponential growth of retail eCommerce thanks to the COVID-spurred online shopping behavior of customers in the US and all over the globe. According to an eMarketer survey, several high-profile brands have plans to close their stores to focus on digital sales. Gap Inc. for example is planning to shut 350 stores in North America by the end of 2023, which comprises 43% of its on-premises stores. Brands like Macy's, Bed, Bath & Beyond, and Morphe are only a few to mention and they all are aiming high to set up digital stores. Over 26 million US consumers have spent $536 million on online shopping by the end of 2022 according to Shopify. Electronic Commerce grew from 17.8% of sales in 2021 to 20.8% in 2023. This is great news for the electronic signature for logistics services for obvious reasons.
Growing Significance of Electronic Document Management in the Logistics Industry.
Exponential growth in the e-commerce industry in the post-pandemic era has drastically changed the global supply chain ecosystem. From booking the product for shipment to delivery and collecting electronic proof of delivery, the logistics industry has gained significant importance and the online signature for logistics and supply chain management plays a prominent role in documenting, tracking, and reporting product sales.
eSigns Document Management for the Logistic Industry
Supply chain workflow involves the movement of goods from the point of manufacturing to the end user, which includes delivering the packed products to a warehouse, from where it goes on to shipping and finally reaching the end users.
In retail eCommerce, most of the end users are individual households and transactions happen from business to customers. Let us examine how businesses can apply eSigns document management features for efficient customer service.
Design Customized Product Catalogues
eSigns allows users to design customized documents that can provide a visually rich pictorial product catalog. Businesses can equally use this no-code platform to design a great variety of documents like order forms, invoices, purchase order forms, and acknowledgment receipts.
Create and save Documents as Templates.
Businesses can save all the above-mentioned documents as templates to use them multiple times to save time spent on recreating them several times. They can save money spent on paper-based documents that may get damaged, lost, or misplaced while it is on the move.
Multiple Document-Sharing Options throughout the Supply Chain Cycle
Logistic industries plan meticulously to ensure the smooth delivery of products without hindrance and eSigns document management features are handy in fulfilling the goals.
Share Documents as a Link
The logistics industry can create a link to any document and share it across social platforms or workspaces like "Microsoft Teams or Google 'Workspace' with multiple users to respond and sign the document.
Bulksend Documents to Multiple stakeholders
Bulksend is an option that lets logistics companies create and share product documents with various stakeholders such as dealers, distributors, shipping agencies, Stuckists, and warehouse managers without creating individual email messages and without switching platforms. Logistic companies can share product inventory documents, purchase orders, invoices, and documents related to material procurement, manufacturing processes, pricing, and stakeholder agreements using this feature.
Workflow Management in the Logistics Sector
Electronic document management systems offer promising features for the logistics industry that relies heavily on workflows at every stage of its operations. Planning at every stage of the logistics sector is very important for the smooth supply of products. Planning related to the place from where a product is picked for packing to reach a warehouse is crucial. Movement of the packed material must reach the point of shipping. The logistics industries can create a detailed planning workflow and share documents online with stakeholders across the globe.
Logistics companies can create and share similar workflows for sourcing raw materials or finished goods, production, inventory management, logistics support, order fulfillment, and Returns management. Although Supply chain workflows can be complex and involve many different steps, electronic signatures for logistics services help businesses improve the efficiency and effectiveness of their supply chains.
Retail eCommerce Ushers in an Era of Tracking and Proof of Delivery Online
A Central Document Repository for Efficient Logistics Document Management
Logistics companies can build a central document repository to store documents related to product production, inventory, shipping, or delivery with a unique indexing number, useful for document searching, retrieving, archiving, and document mining. The best online signature software for logistics companies allows users to share documents swiftly from anywhere at any time. This cloud-based software remains agile and compatible with accessing documents remotely on diverse devices, including mobile phones.
Track the Document Status on the Dynamic Dashboard
Logistic companies can track every document related to raw materials or finished products from the source of mining to manufacturing. Companies can build customized dashboards with pictorial representations of data related to product movement, including proof of delivery and acknowledgment. Logistics companies can set expiry dates for documents for the recipients. They can view expired, declined, archived, or deleted documents on the dashboard, without wasting time searching for documents with specific statuses.
Collaborative platform to Conclude Trade Deals and procurement contracts.
Signing trade deals or logistics contracts involves laborious documentation, incorporating various clauses related to trade modus operandi, penalty clauses, terms and conditions related to product manufacturing, processing, delivery, and jurisdiction in case of any dispute. The online signature for logistics and supply chain management electronic signature allows logistics companies to prepare legally abiding tender documents and trade agreement contract documents. The paper-intensive logistics industry relied on traditional document management practices. Manual document creation and sharing for the logistics contract signing turned out very expensive and time-consuming. Companies can get alerts when they send or receive documents. The platform reminds users or recipients to pay attention to the documents awaiting their response or signature.
The interactive "Chatting' features allow stakeholders to discuss, debate, edit, and make necessary changes to a contract document before concluding the trade deal. For more details on logistics document management, please visit our previous blogs.
Final Thoughts
Electronic signature tools for logistics document management exhibit immense potential for smooth document creation, sharing, and workflow management of logistics operations online. The document management system helps logistics companies maintain the privacy and confidentiality of documents with global compliance with trade laws. For more details on the electronic signature for logistic document management, visit us and book a free demo.