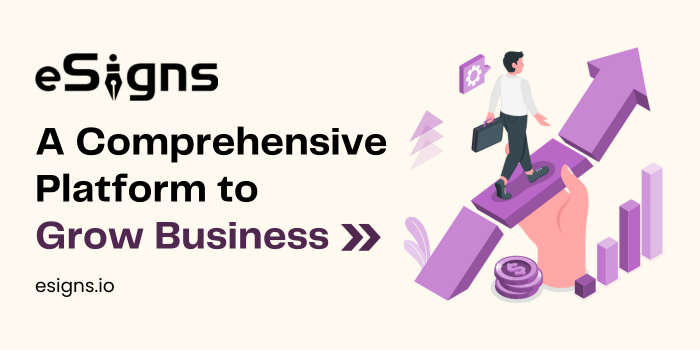 Digital documentation and workspace are estimated to reach $144.3 billion in 2023. This market is expected to grow at a CAGR of 12.5% from 2023 to 2027. Several factors, including the increasing adoption of cloud-based solutions, the growing demand for collaboration tools, and the need for secure and comprehensive document management, are shaping this market globally.
Factors like the massive explosion of e-commerce and rising user expectations for personalized services are prompting companies to remain competitive and initiate changes to transform their organizational structure to stay flexible, agile, and user-friendly while complying with industry norms. The top electronic signature software is playing a significant role in building a digital ecosystem for companies to create a suitable workspace to boost digital transformation.
It is interesting to observe how eSigns, one of the best electronic signature platforms for document management, qualifies to be a collaborative, cloud-based tool that complies with global and local norms in honoring customers' privacy and security norms.
Phenomenal Rise in the Consumption of Cloud-Based Technologies
Digital disruption is a global phenomenon today and impacts a wide range of industries, irrespective of their size and revenue. Companies, in their rush to stay agile and flexible, are turning to cloud technologies. According to Fortune Business Insights, the cloud technology market size is galloping at a lightning speed of USD 677.95 billion by 2023, and it is expected to reach USD 2,432.87 billion by 2030.
Cloud technologies are increasingly cost-effective. SaaS platforms like eSigns help organizations reallocate their massive IT spending to building a digital ecosystem rather than investing in hardware, software, licensing, and training.
eSigns offers end-to-end electronic document management services to its users, helping companies remain swift and agile in reacting to document sharing. Recipients can access documents on mobile phones and can react swiftly to the occasion.
eSigns is a cloud-based electronic signature platform that allows companies to remain flexible in meeting the organizational demands of building applications and meeting project deadlines. Without spending money on building on-premises hardware, eSigns acts as Software as a Solution (SaaS), helping enterprises meet their business objectives.
Collaborative Enterprise Platform
Interactive platforms may be useful for reactions and comments. All major social platforms are no doubt interactive, as they encourage readers or audiences to express their opinions. Collaborative platforms are live and instant in contacting and eliciting the stakeholders' reactions to edit or make changes to a specific business deal or contract in real-time, so that changes can happen immediately to conclude a deal.
The best electronic signature software provides instant chat and notification options to users, who get to know the document status or the recipient's reaction. When a recipient declines to consider a document or completes signing the document, the sender gets a notification to this effect. One or many stakeholders in any business discussion can discuss various business clauses or technical details of the contract using the "Chat" option. This feature helps businesses maintain transparency by placing all the stakeholders on the same page.
Global Compliance
Compliance is a global challenge today. According to Steve Morgan, the editor-in-chief of Cyber Magazine, the cost of cybercrime is predicted to cost the world USD 8 trillion in 2023. The volume of cybercrime currently is equal to the third largest economy, next only to the US and China. The cost of cyber security is expected to grow by 15 percent per year over the next three years, reaching USD 10.5 trillion annually by 2025, up from USD 3 trillion in 2015.
Cybercrime impacts individuals, companies, agencies, and governments. This includes data theft, loss of money, and productivity. Governments across the globe have enacted laws to ensure user privacy and data security.
eSigns, a free esignature software, has taken several measures to insulate platform users' personal information, such as credit or debit card details, bank account numbers, and personal preferences, as breaches to cyber are centered on stealing sensitive user data.
Two-step Authentication
eSigns takes several measures to ensure users' privacy and data security. By adhering to two-step authentication to verify customer identity, users can send or receive documents with highly confidential information to the intended persons or organizations without any hesitation.
Digital Audit Trial
eSigns maintains a detailed digital document log history that documents the user details who edited or modified a document, including the date, time, and name of the person or user ID. A digital audit trail helps the platform remain transparent and free from the fear of a breach of trust.
Electronic Signature
The electronic signature is a legally accepted form of agreement signing globally, as many countries across the globe have enacted laws to this extent to avoid delays and costs involved in signing paper-based documents. When a user signs a document with his or her custom eSignature, eSigns certifies it with a digital stamp. This makes the document free from fraudulent practices.
Increasing Popularity for Collaborative Platforms with Compliance
Digital transformation is taking place at a galloping speed, and organizations and individuals are keen on switching to collaborative platforms to save time and money. Companies need not spend money on establishing hardware as the software serves as a platform to execute document transaction activities.
Final thoughts
Digital document management platforms have revolutionized the way organizations have started creating and sharing documents. No-code platforms could relieve businesses from spending money on hardware. The user-friendly, free online signature software empowers all employees in any sector to operate with minimal training. Compliance is not going to be a challenge on these platforms, as they adhere to industry standards. The best electronic signature software is taking measures to fix competitive price structures, making them affordable to diverse companies, irrespective of their size. Collaborative platforms are flexible and adaptable to diverse industry demands, like on-premises or cloud-based operations. Electronic signature platforms are transforming organizational work culture by making them paperless and efficient with a unique user experience.
eSigns is offering advanced digital document and data management features to a wide range of industries and services alike. Its collaborative features are making it truly interactive by meeting international compliance norms and taking measures to safeguard users' privacy. eSigns is agile enough to meet the current market demands with its cloud presence.