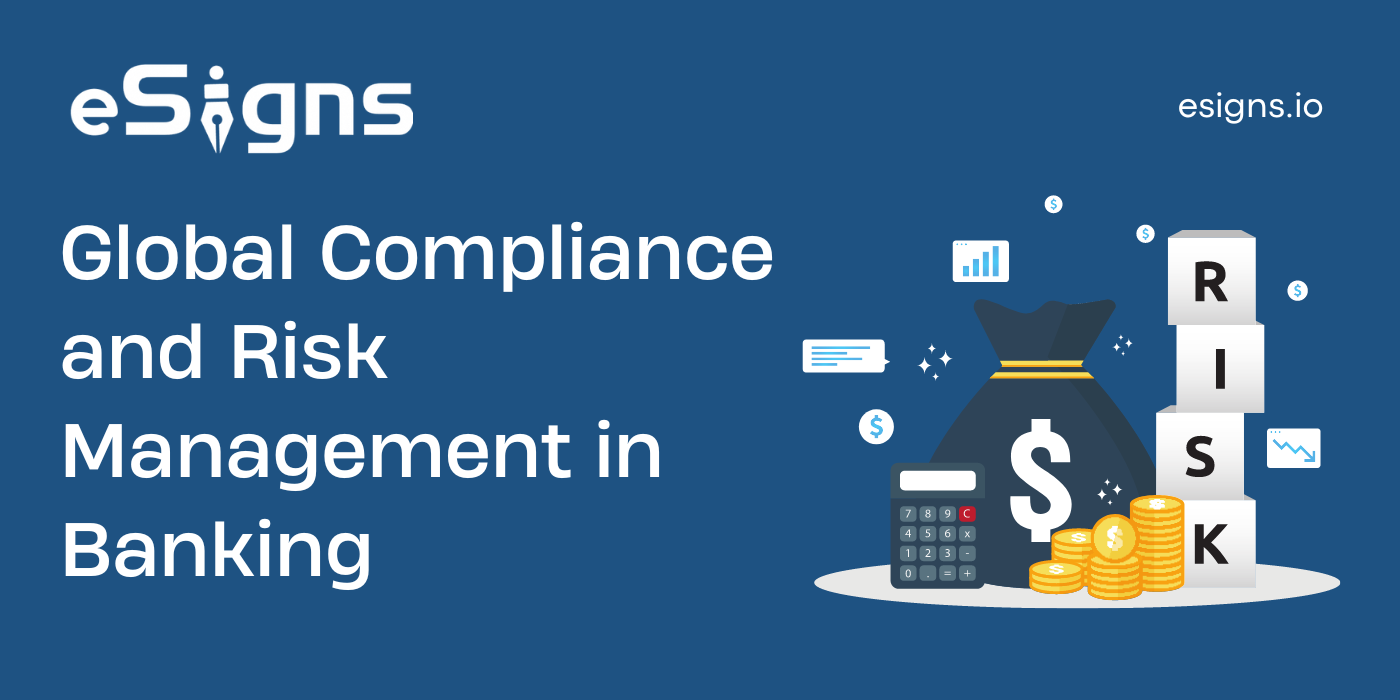 Gone are the days when financial transactions were limited to the banking and structured financial institutions operating with government authorization and approval. Multiple third-party facilitators, B2B, and B2C eCommerce platforms have started offering payment gateways to checkout from the same platform completing their online shopping and payment at once.
Banks underwent a complete overhauling of their operations with thousands and millions of online consumers buying and selling products and services to many all over the world. A digital and technological landscape in which banks functioning today are not free from risks and they invite compliance challenges subjected to global, regional, and local variations in laws. Electronic document management platforms for banking have taken measures to offer an agile and risk-free space where stakeholders can operate freely with transparency by honoring the laws of the land.
eSigns, the electronic document management platform for banking has distinct features to provide a digital and technical landscape for banking and other financial sector organizations to act swiftly without compromising the customer's safety and privacy.
Expansion of banking operations to the remote corners of the globe through mobile-first, user-friendly apps promoted financial inclusion in developed, emerging, and developing economies of the world. According to a World Bank study, 20% of the global population equal to 1.7 billion will be making cashless payments. While China and South Korea are the global leaders in mobile-first economy, the USA, Sweden, and countries in Sub-Saharan Africa are making a beeline for online and digital financial transactions.
According to a McKinsey study, the use of technology in banking and financial sectors increased tremendously and the below-mentioned statistics provide a few disruptive trends that may creep into this sector by 2025.
There is a 3-fold increase in the number of firms with over $1 billion in revenue by 2020. From 2,022 companies in 2010, the numbers may shoot up to 7000 in 2025 and they are going to avail digital banking services.
50% to 60% increase in demand for a workforce with data analytical skills.
60% of banks are likely to join or adopt a digital ecosystem with end-to-end digitization.
50% of banks would shift to complete automation.
80%-90% of the workforce may spread all over the world, working in hybrid and remote modes.
Imagine the amount of document transactions that may take place by completing with the customer's online data safety. The financial sector institutions need to act on capacity building to manage work and data while meeting customer safety, privacy, and compliance norms.
eSigns' Abilities in Meeting Agility Market Environment Globally.
eSigns is a cloud-based electronic signature software for banking and other financial sector operations with in-built capabilities to remain swift and agile to meet user expectations. eSigns offers end-to-end electronic document management capabilities for the banking sector, where bank employees can get trained to operate this user-friendly technology with minimal effort.
End-to-End Banking Sector Document Management with eSigns
Design Customized Documents
eSigns offers a No-code platform for the users to create unique and customized banking documents that may include customer bank account opening forms, loan application forms, product catalogs banking manuals, documents related to terms and conditions, privacy policies, customers' compliance guidelines, and more by dragging fields on to the blank document to design a customized banking document with required fields.
Templates for Multiple Future Use
Bank employees can save the above-listed documents as templates to share with multiple customers on various occasions.
Multiple Document-Sharing Options
Banks can share documents from eSignature tools for financial services, by adding the customer's email address or sharing documents as a link on any encrypted or social platform for the customers to access and download for filling and reverting with details.
Share Documents with Many users at Once
Banks can share n-number of documents with multiple contacts at once using the "Bulksend" option.
Swift Customer Onboarding through Workflows
Banks can share a bundle of bank account opening forms or insurance claim documents in a row using eSigns workflows for banking operations.
A Cloud-based Central Digital Document Repository
Banks can create and preserve all kinds of documents and templates in a centralized document repository to retrieve and reuse them anytime they want.
Compatibility and Agility through the Mobile-First Platform
Cloud-based Document Management Platform for Banking allows financial institutions to share documents on diverse platforms and devices like laptops, desktops, tabs, and mobiles, turning eSigns into an agile platform for the banking sector.
Tamperproof Document Management
Banks can sign contracts, business deals, and agreements on eSigns with a scanned and authorized eSignature. Users can save the scanned eSignature to import on any document to sign and complete their business deal. eSigns offers a tamper-proof eSignature to lock the document against cyber fraud and helps banks maintain authenticity.
Transparency through Digital Audit Trail
eSigns maintains a thorough digital document log that displays the date, time, and identity of the persons who modify a document to all the stakeholders. It also displays the number of modifications made to the document to fight fraudulent practices and to improve accountability.
Seamless Document Management Features
Alerts: eSigns Alerts a document receiver on receiving a document for any transaction. Users can react to these alerts to complete their signing process.
Notifications: Users receive notifications whenever any document is completed, declined, deleted, or voided.
Highly Collaborative to Conclude Business Deals
eSigns provides a "Chat" option for users to interact and discuss and edit or modify any terms and conditions, or clauses using the chat option while signing any deal or contract.
Data and Analytics at your Fingertips
eSigns offers a customized dashboard that is highly pictorial, analytical, and visually rich for bankers to extract information on the number of contracts completed, declined, voided, or expired. Based on the inputs the analytics offer, bankers can act based on the inputs they receive from the dashboard.
Global Compliance with eSigns
eSigns complies with all major global economies' legal and customer data privacy norms so that it takes measures to send documents to an intended user only and takes care of all the compliance measures.
Final Thoughts
Keeping the ever-changing competitive banking landscape, eSigns offers end-to-end document management services to excel in business growth. Banks can remain agile, productive, and efficient. Feel free to contact us for a free product demo to learn more about how the eSigns' document management features are effective for the banking sector.