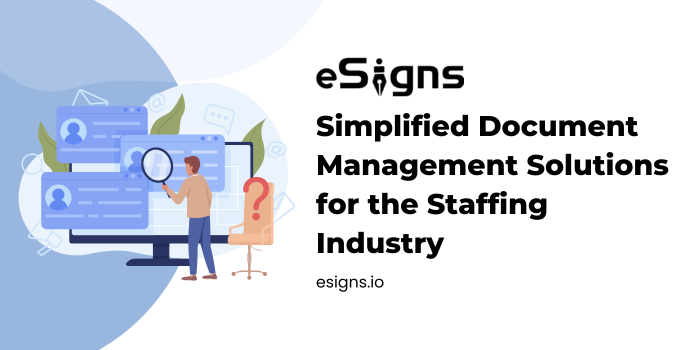 The paper-intensive recruitment process relies heavily on documental evidence from the candidate who is shortlisted for a position to verify the authenticity of the recruit. Companies, irrespective of the size of their total workforce are dynamic in reshuffling teams and go in search of new talents as per the changing organizational demands.
Pain Points in the Conventional Hiring Approach
Conventionally, when there are five software developer vacancies to fill in, companies screen 10 to 50 resumes to figure out the right candidate. Having 20 members for the final round, the interviewer collects their email addresses to inform them about it. Once the candidates are shortlisted for the positions, the recruiting manager starts collecting several essential documents for onboarding the candidates.
Recruiting firms Should verify the candidates' backgrounds for which they should dig further deep into factors like whether they are eligible to take employment in the USA. They do so by collecting the "Employment Eligibility Verification Form (I-9)". Recruiters should collect the below-mentioned documents including,
If a company with 5000-10000 employees needs 100 candidates for onboarding, how does the recruiting manager go about it?
Many companies to date are relying on conventional tools like emails, which are laborious and time-consuming for recruiters. What about the amount of time, money, and effort the companies are spending on formatting, printing, filling, signing, scanning, and sharing documents? What alternatives are available for companies to remain swift and agile while saving time and money in the age of digital disruption? How can they improve their employee efficiency and productivity?
How Companies can Simplify Document Creation and Sharing Process with eSigns?
No-Code Platform to Create Customized Documents
Staffing firms can create all the above-mentioned documents with their company logos, and watermark backgrounds using the best electronic signature for staffing in minutes. The user-friendly software offers tools and techniques for the recruiting team to drag and drop all specified fields like space for filling in details, fixing photographs, attaching documents, and space to write text and paragraphs.
Companies can share these forms on a cloud-based eSignature platform, which is safe and encrypted. The documents reach only the intended candidate with a two-step verification and authentication.
Multiple Document Sharing Options in Quick Succession.
eSigns offers recruitment firms a variety of ways to share documents.
Share Documents as a Link
When a staffing firm intends to recruit only 5 out of 100 candidates, yet it aims to collect RTR forms from all 20 of them, should it approach them personally through an email?
Recruiters collect the documents mentioned below from the new joiners in a specified format from the candidates once they are shortlisted.
These are a few such documents that recruiting manager collects for employee Onboarding:
Offer Letter
Employee Personal Information Form
I-9 Form
W-4
Pay Chex DD Form
Handbook Agreement
Medical Enrollment Form
Dental & Vision Enrollment Form
Information required for LCA filing.
Arizona withholding form.
It involves time and effort to prepare a list of 100 email addresses to shoot letters to them to attend an interview in person. The staffing firm should collect the Right to Represent form from a candidate, which authorizes it to state that the candidate agrees to be presented for the position by this specific staffing firm. If a client organization requests an RTR, it is most often not optional. Candidates may not be considered for the specified position without a completed RTR.
A recruitment manager need not search and file all 20 email addresses to share a document to get RTR forms from the candidates. They can share this form as a link to the candidates on a WhatsApp group or on the social media platforms like LinkedIn, allowing the candidates to download it. A recruitment manager can send documents via eSigns, where he can quickly add multiple contacts saved in the platform already, or he can choose a "Get Link" option to share documents as a link directly with the candidates.
Save Time and Effort with eSigns Templates.
Don't waste time recreating an important document, which you would like to collect during the pre-onboarding phase. Save any customized document you created on the best esignature service for staffing firms as a "template" to reuse several times in the future. Recruiting firms can save time and effort by reusing templates, which may have several tables, columns, or graphics with detailed information on the company's employment policies and the organizational work culture.
Efficient Employee Onboarding with eSigns Workflow.
After collecting the documents from the candidates in the pre-onboarding phase, it is time for the company to share documents with new recruits. Companies need not take days or weeks to share multiple documents to induct a recruit into the workforce. They can bundle a series of documents as a workflow by just clicking on the document to join the bundle. These documents reach the candidates in split seconds.
Dynamic Dashboard to Track Document Status
The recruiting manager receives alerts when an employee completes signing an agreement. The manager can track document status through eSigns Dashboard, which is dynamic in updating whether a candidate opened the document the manager sent and signed it. The dashboard classifies documents that are completed, expired, declined, or voided. It is easy to view any document from the options placed in a dropdown next to the document.
A Dashboard that showcases the Recruitment Status
Sign Employment Contracts Online with an eSignature
Both the manager and the candidate can remain on the same page to clarify doubts, add, or remove details, and sign the employment contracts online by fixing the electronic signature of the recruiting authority and the candidate. eSigns is an interactive and collaborative platform that facilitates chatting while signing a document. Candidates and the manager receive alerts and notifications while sending, receiving, declining, or editing any document.
eSigns-A Platform that Integrates Multiple Staffing Functionalities in One Go
Apart from the above-mentioned document management features, eSigns offers advanced data storing and management facilities for staffing firms to build personalized information as data. Firms can segregate and store data in eSigns 'Entities" and can segregate them as managers, Vice Presidents, Directors, software developers, Team Leaders, etc. The recruiting team can easily access any data related to an employee's age, gender, marital status, salary structure, projects completed, skillsets, etc.
Companies that are still relying on traditional technologies like filling Excel sheets and emails may have to work longer hours in building data and drawing inputs from them. eSigns form builders and 'Entities' store massive data that help companies to manage their daily office routine such as monitoring teams' daily, weekly, and monthly work reports. While the employees can update their tasks when the day closes, concerned team leads can view them on their respective dashboards.
Conclusion
The best electronic signature for staffing services offers end-to-end document and data management facilities in one place for recruiting firms to complete the employee onboarding process in a few minutes. Recruiting firms put an end to manual data entry and paper-based documentation. With a diverse pricing range, eSigns is quite affordable for companies to automate the entire employee onboarding, induction, and training. Companies can transfer and exchange documents to induct an employee within no time. With a complete employee handbook and job-related information, the recruit is ready to take responsibility.