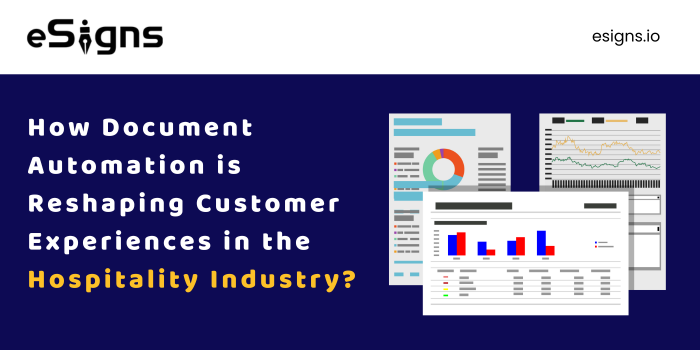 The hospitality industry is all about creating a wonderful ambiance for the guests. The service should create great memories for customers. Overall, providing the best customer service remains the highest priority. No matter how better you serve, even the slightest dissatisfaction could lead to negative feedback from the customer. To improve services daily, the hospitality industry is embracing Electronic Signature, a cloud-based platform. This modern-day software can be used on any device irrespective of geographical location. It saves time and costs involved in the manual paperwork. Customers can complete all the necessary documentation, and order requests at a faster pace, without any delays.
Post-pandemic contactless technology is in use across diverse sectors. Mobile applications, and websites to seek orders, and book services have become quite common.
Incorporating eSignatures helps the hospitality industry meet all the requirements of the customers. Basically, the sector deals with immense paperwork, let us check areas, where the documentation can be automated to simplify the procedures for guests.
Automating Documentation in Hospitality Industry
Hospitality welcomes people from all walks of life. From providing rooms to conducting summits, parties, product launches, corporate events, and recreation, several activities are hosted in this industry. To organize such events immense wealth of documentation is required from guests such as collecting identity proofs, room bookings, and liability forms.
All this documentation can be managed effectively by the eSigns application. by using simple drag-and-drop features. An individual need not be tech-savvy to manage all this documentation.
For commonly used agreements, it is quite simple to create an order form for the customer. The reusable form can be generated from saved templates, which can be shared as a link with numerous users for the signing process. It eliminates the entire paper-driven process. For collecting the documents, entities can be created, and a shareable link with upload features allows the guests to upload all requisite identity proofs and documents.
eSignatures for Hotel or Restaurant Business
Hotel management itself is an immense task. Planning and micro-level management is mandatory to run the business successfully. Business requires effective approval from authorities. It is a paper-driven and time-consuming process. Managing documents could be a cumbersome task. By embracing electronic signature software for the hospitality industry, hotels can place orders for groceries, fruits, vegetables, and beverages. They seek the help of technicians for the maintenance of machinery and equipment. Hoteliers can design customized checklist forms to maintain food quality while ensuring safety. They need forms of health and insurance-related norms to submit to government agencies.
Hotels can create all the above-mentioned forms with their logo. They can simply drag and drop fields to create customized lease agreements and vendor management forms by using this document management system.
Companies can tie a series of templates consisting of agreements and orders as a workflow to reach the customers at once to complete the task swiftly. In this process, all the stakeholders added to the contact list can observe the entire signing process, who signed on the document, who raised concerns, and other features. This tracking system makes the entire procedure transparent.
Further, the documentation remains confidential as it can be accessed with a two-step authentication process from any device with an internet connection. The documents can be signed from any remote location.
Manage Hospitality Business Events Virtually
The hospitality industry involves a lot of fun-filled activities and adventurous sports. Some include watersports, trekking, and other outdoor activities, these are associated with risks. For all these activities, a customer consent form is required from the guests before reaching the venue. The liability form is common to all the guests, in this case, event organizers can use an option to" Bulksend" to share the form with multiple users. The organizer can receive the signed documents within no time. Document management with eSigns streamlines the entire process.
Health screening forms are also common to every guest and the organizers can share such agreements as a link in the event website for the participants to download to fill in their details.
Benefits of eSignatures to the Hospitality Industry
Right from boarding a flight to staying in a hotel and enjoying recreational activities, a lot of paperwork is involved in the hospitality sector, which is mandatory as well. Introducing electronic signatures to the hospitality industry will make a huge impact. It improves customer experience and reduces waiting time for the check-in and out process.
As electronic signatures are legally binding, the way of doing business changed drastically across diverse sectors. The concept of remote business through an online document management system is much in practice. The hospitality industry is leveraging technology to enhance customer experience and stay ahead of competitors.
eSignatures will help hospitality service providers to stay effective and deliver services at a much faster pace. It allows businesses to send documents and get them signed immediately. It creates a positive impact on customers and vendors. Further, it reduces the risk of paper-driven document management processes and the costs involved in it.
Customer Satisfaction and Brand Management
Word of mouth is more powerful than any kind of marketing. And as per the reports from some trusted sources, 72% of satisfied guests will spread positive news to at least six people about the people, whereas the remaining 13% of unhappy customers spread negative news to 15 people.
In the present scenario, it is imperative to provide the best services at a rapid pace. The technology-enabled solutions will simplify all the tasks. Hoteliers can now manage check-ins, check-outs, invoices, and signing vendor agreements without any hassle.
Guests are no longer interested in filling the bundles of paper-based documents manually. The electronic signature software helps agencies in the hospitality sector to live up to the customer's expectations with swift and agile processes at every stage of service in the hospitality industry.
Responding to customer needs quickly is the prominent motto of the hospitality service. Practically, electronic signatures enable customers to complete orders from anywhere. The system enables staff to provide service at a quick pace.
Conclusion
Electronic Signature Software is a cloud-based application. It has transformed the way of doing business in many sectors. Several industries with intensified paper-driven practices are embracing this technology eagerly to remain agile in serving customers swiftly. The hospitality industry is one of the few sectors which largely benefited from this platform, which includes the document signing process, data collection, and management.