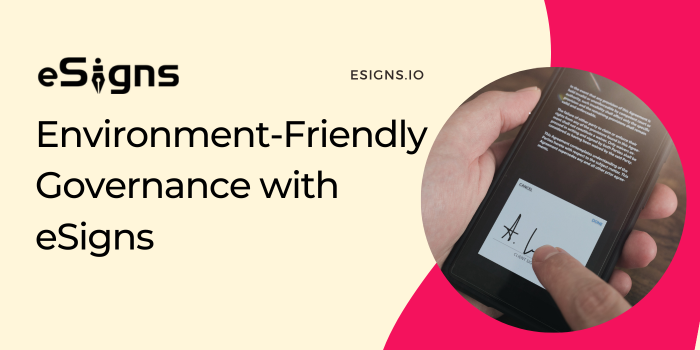 The Acronym Environment, Social, and Governance (ESG) resonate closely with electronic signature software for enterprises of all sizes. ESG as a concept came into existence in 2005.
Despite skeptical views on its sustainability, there was tremendous progress in adapting ESG concepts by 2019. According to the G&A Sustainability Report- 2021, companies have started allocating resources, and over 90% of the S&P 500 companies and 70 % of Russell 1000 companies are now publishing sustainability reports. For many geographic local jurisdictions, disclosing their contributions toward ESG is mandatory.
The US Securities and Exchange Commission (SEC) is considering a rule to seek a detailed ESG report from the companies to disclose climate-related risks, including emission levels.
Amid skeptical corporate responses. Several new, clean, and green technologies like electronic signature software came into existence with a motto to end the onslaught of trees by promoting a paperless, digital work atmosphere.
Environmentally Responsible Electronic Signature Platforms
Companies are at the forefront of taking the climate challenge as a corporate responsibility. It is evident from the global sustainability funds, which shot up to $2.5 trillion in Q2 of 2022. Many companies have started pumping in sustainable fund Inflows over the past few years.
From $5 billion in 2018, sustainable fund value grew up to $70 billion in 2021. Companies can now build digital infrastructure at an affordable rate to eliminate paper usage and delays to enhance efficiency.
The electronic signature platforms offer integrated and highly comprehensive solutions to a cross-section of industries in the manufacturing and service sectors. Highly paper-intensive education, healthcare, and banking sector can go completely digital to drive a unique user experience.
While hospitals and labs can maintain patient health records in centralized, cloud-based repositories, educational institutes can issue transcripts, certificates, and project guidelines digitally with an electronic signature and a digital seal. From customer registration to onboarding, banks can go green with exclusive online banking branches and services. Exclusive online banks without physical office premises have already been set up in many parts of the USA, Canada, and Western Europe, Organizations adhering to electronic signature norms have stopped allocating budgets for legacy technologies, including papers, printers, processors, scanners, and dispatchers to reach customers.
Instead, companies and organizations have started creating documents electronically to convert them as templates to reach out to customers scattered all over the world within no time.
Manufacturing and logistics companies have switched to electronic modes of dispatching communication to exchange information. Companies are signing trade agreement deals, vendor contracts, and sales deals by creating and sharing customized contract renewal forms and concluding all their new mergers & acquisition agreements with electronic signatures, which are authentic, measurable, scalable, and sustainable.
Socially Responsible, Cloud-Native Electronic Signature Platforms
Customer privacy and data safety are two crucial components of the same coin, and electronic signature platforms have ensured them. According to the Cyber Crime Magazine article, cyber fraudsters have siphoned $ 6 trillion in 2021, which is equal to the wealth of the world's third-largest economy after the USA and China, and this will likely reach $19 trillion by 2025.
Electronic Signature platforms are unique brand identities around ensuring cyber safety and security as countries across the globe have enacted laws to declare electronic signatures as legally valid.
Documents with an electronic signature and seal follow measures to authenticate authorized users with an OTP for accessing documents. A manufacturing unit can create a no-paper zone to train employees and equip them with an eSignature platform to manage supply-chain relations and vendor relations. Electronic signature tools form an essential part of digital infrastructure for companies to maintain secrecy, confidentiality, and consumers' right to ensure data safety and security.
Promote Good Governance with the Help of Electronic Signature Software
Public sector agencies like government offices, hospitals, and research institutes face challenges in offering efficient public services. Electronic signature platforms integrated with document management systems are good at driving good governance. Public sector agencies can clear, send, and receive error-free documents quickly. Governments can clear pending driving licenses, social security numbers, and industrial licenses with the help of document management platforms safely. Public and private sector companies can meet their economic and project goals by acting swiftly and efficiently with speed document sharing and removing roadblocks to meet development goals in agriculture, food security, health, and education.
Companies, agencies, and organizations can create digital workflows to enable users to fill, sign, and file documents online with an electronic signature. They can store and segregate data with integrated data management features to design policies and promote products and services in a personalized manner. Timely inventions in the research labs are crucial for product innovations, and companies can integrate external and internal departments with end-to-end digital automation to drive efficiency.
Companies can manage data at their fingertips to sustain the challenges in the data-driven market atmosphere to act ahead of the competitors with effective customer service. Users can customize their dashboards in eSigns to view comprehensive data such as pending contracts, completed deals, and agreements in progress so that the leadership can act accordingly to avoid delays. The inbuilt AI analytics notify customers with automated alerts such as emails, SMS, and notifications to act on the document waiting for approval.
Conclusion
Electronic signature platforms are the next-generation software solution providers with integrated document and data management features. The public and private sector organizations can scale their operations with measurable operational efficiency.
Organizations can remain agile, up-to-date, and flexible in meeting customer expectations.
Apart from meeting ESG goals, companies are gearing up with sustainable measures to combat the climate crisis. Electronic signature platforms are at the forefront of delivering socially safe and environmentally- friendly technologies to promote good governance. Public sector companies are under tremendous pressure to handle public criticism of delayed public services.
Electronic signature tools go a long way in achieving ESG norms. Companies can get cloud-based or on-premises eSignature with in-built document and data management features to drive efficiency, privacy, and data safety.