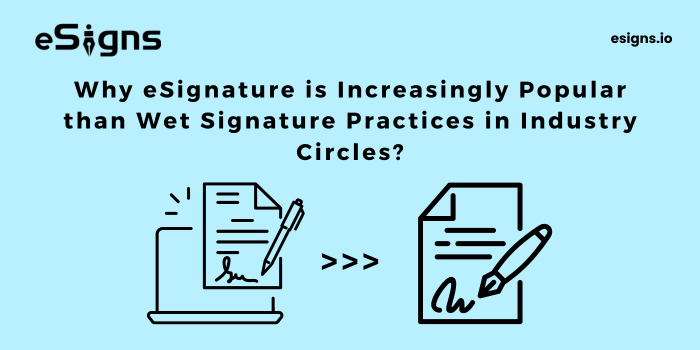 Paper-driven documentation and wet signatures were traditional ways of running administrative tasks in an organization. It involves tons of paperwork and numerous workforces to maintain them safely. However, with the evolution of eSignatures, businesses have swiftly shifted to online documents instead of a traditional approach. Integrating this cloud-based software to improve efficiency and productivity has become a new norm in the corporate world. Giving up paper-driven workflows is reducing operational costs on a large scale.
Organizations across different sectors embraced this technology. It reduces document handling costs by 85 percent. The best example is online banking, almost all the banks adopted the practice of eSignatures to communicate with customers or account holders. Slowly other sectors are shifting to the practice of online documentation, and understanding its benefits.
This informative blog discusses the positive outcome of using document management applications. And how this eco-friendly initiative is transforming the entire workflow in different industries.
eSignature is Cost Effective
Companies love savings and electronic signature software saves huge amounts of money. According to studies from some reliable sources on average in the United States, an organization is spending $8000 on paperwork. These are approximate figures, which vary as per the requirement of the industry. The cost and maintenance add extra cost. It could be burdensome for the organization to bear such additional costs. All these aspects of paperwork can be eliminated by adopting eSignature technology. In addition, it assures the safe storage of contracts, agreements, offer letters, or any paper-based documents without occupying physical space.
Document Management and Processing Time
It could be a staffing firm or any other organizational setup, on average it requires over 5 days to send a document through a courier service to a distant location. Based on distance, the duration may increase further. But, by simply incorporating eSignature software, the entire process of creating and sending documents to respective clients or users is reduced to 30-40 minutes. It also minimizes the additional time and cost involved in printing, scanning, and distributing documents in physical form. The user-friendly eSignature software is agile and robust. It is easy to conclude contracts or release offer letters. It is simplified when you get a hands-on experience with this software.
Minimizes Human Error
There is a great saying "To err is Human." Mistakes happen with human beings, but the eSignature gives us great scope to minimize such basic errors at the initial stage. Printing a document involves huge costs, a single error further leads to the re-printing of documents will double the cost. Whereas, in the case of electronic signature software, you can edit the document multiple times online, before sending it to the recipient. Further, receive the request from the recipient for amendments., the entire process happens online through cloud-based technology. Even, if there are errors, they could be rectified instantly at the very earliest stage.
User-friendly software
Electronic Signature software is very easy to use. An individual need not be technically sound to learn the cloud-based application. Anyone can access the application from any device of their choice. If you follow the simple guidelines available along with the product. You can perform multiple tasks, including creating, editing, sending, and requesting signatures online. Using this no-code platform. A user can drag and drop fields to create customized documents without any physical movement and comfortably complete all tasks.
Security Measures
The electronic signature software ensures confidentiality and security. Even, if you send the documents through courier, there are high chances of information leakage or some kind of tampering. But, with eSignatures software, documents are safe and tamper-proof, right from the day of signing till the date of delivery. The signature that you create with the software is encrypted. The security features comprise two-factor authentication and unique codes, to build confidence in the end users. Above all, embracing the technology reduces the risk of forgery and reduces operational costs. Most banks adopted the practice of eSignature technology to communicate with millions of account holders across the world.
Remote Access
The main purpose of this software is to simplify labor-intensive manual work with minimal errors. eSignature has all such features to unite your business partners, vendors, clients, and employees on one platform. Though they stay in varied locations, they can easily sign the contract and request amendments, asking for more clarity on the agreement. It saves time and brings more transparency to the work culture.
Enhanced Customer Experience
Apart from enhancing operational efficiency and cost reduction, the software is transparent and uncovers the element of surprise, which is unclear in the traditional approach. It is possible to involve all the clients, business partners, and various other stakeholders to take an active part while signing a contract or agreement. The electronic signature platform ensures transparency by allowing all these stakeholders to remain informed in document-related discussions, corrections, and amendments. The software allows all users to request amendments and suggestions. With the consent of every individual or stakeholder, the contract would be signed. eSignatures are tamper-proof and cannot be forged. All the documents are stored in the cloud platforms ensuring multilayered security. Above all, the software is self-explanatory and doesn't require much professional help to manage the documents. It is a win-win situation for organizations and individual users as well.
Adopting new technology means accepting market changes or trends. This is an era of electronic signature software and going paperless is not just an eco-friendly initiative but ensuring that clients are provided with the best service. Staffing firms have been successful in choosing the best candidates at a rapid pace. Right from selection to onboarding the entire process is done through the electronic signature software. Apart from staffing, healthcare, manufacturing, and other industries are adapting to this practice of online documentation. The best advantage is accessibility, you can access it from any device. It could be a mobile, laptop, or any device that is available to you.
Conclusion
eSigns is a cloud-based platform poised to transform the landscape of document management in several sectors. It has become the need of the hour for almost all businesses to go paperless. It has many advanced features in terms of security and document management. Enroll for a free demo.